PORTRÉT PLEMENE BEAGLE/BREED PORTRAIT
BEAGLE JUDGING
BEAGLE A LOV/ BEAGLE & HUNTING
KNIHA-"BÍGL"

BOOK "BEAGLE PORTRAIT"

Nakladatelství DONA

Ing. V. Doležal, A. Doležalová

České Budějovice

Kniha je definitivně prodaná!

* * * * *

Nakladatelství DONA

Ing. V. Dolezal, A. Dolezalová

Ceské Budejovice

Ceska republika

The book is definitely sold!

Z obsahu: Seznamte se s bíglem. Cesta historií plemene. Standard a jeho vývoj. Povaha bígla. Zbarvení bíglů. Chov bíglů u nás. Od štěněte po šampiona. Něco z genetiky. Chovatelství. Uplatnění bígla.

90 stran, černobílé a barevné fotografie, ilustrace

"Konečně se příznivci tohoto populárního plemene dočkali. Z pera jedné z našich nejúspěšnějších chovatelek bíglů vzešla další příručka v edici Chováme psy. Ocení ji nejen ti, co již bígla mají, ale i všichni, kterým toto atraktivní plemeno učarovalo. Úplná nabídka knih na www.dona.cz

From abstract: Get to know Beagle. Breed history way. Standard und his development. Beagle character. Beagle Colors. Beagle breeding in Czech republic.From puppy to champion.About genetics. Breeding. Beagle exercise.

90 Seites, BW & color photographs, drawing. Language - Czech
Bígl má živou, inteligentní a dobráckou povahu. Je to přítulný, bystrý a odhodlaný pes bez známek útočnosti nebo bázlivosti. Bígl je stále přátelský, vymýšlí si žerty, v každém případě také přátelské a očekává stejně přátelskou reakci. Což někdy vyžaduje značnou sebedisciplinu majitele.Dožívá se vysokého věku, v průměru 13 až 15 let.
Je oblíbeným výstavním psem a jedním z mála loveckých plemen, které se stalo vyhledávaným rodinným mazlíčkem, zvláště pro ty, kteří nevyžadují příkladné chování.
Je lovecký pes – honič, a tak rád využije každé příležitosti ke sledování čerstvé stopy zvěře, které může skončit i dost daleko od domova. Kromě tohoto dobře vyvinutého loveckého pudu obecně panuje názor, že je tvrdohlavý.
Potřebuje zejména důslednou výchovu již od ranného věku štěněte, tu však nesmíme zaměňovat s tvrdostí. lze ho snadno vycvičit, zvláště když jako hlavní výchovnou a výcvikovou pomůcku použijete pamlsek.
STANDARD
The breed of beagle is quite appropriate for families with children. But one has to respect its distinctive nature and a great interest in hunting. For a long time beagle has been bred just for this quality. This hunting drive is also manifested in domestic environment.Beagles hunt for rabbits and deer and when finding a track they announce it with a peculiar singing. Traditionally beagles were used as rabbit trackers, but they are also suitable for hunting of other animals. Although there are not many beagles anymore living in their natural environment, their hunting urge remains more or less – usually more – genetically unaltered.They are used mainly for a flash stress hunting of boars, deer and high game, but also for tracking smaller game such as rabbits and foxes. If one desires such dog, despite of its passion for hunting, it is recommended to start early and consistent training of dog and its owner – the latter must always be on guard. This is only minus – if it could be considered so.Otherwise beagle is always friendly, healthy and easy to take care of (but be aware: even shorthaired dog visibly molt) and its medium size is also the optimum. It requires regular care, which means daily care! Being on a move is essential. It could be one to two hour walk, jogging or bicycle tour – the last only with a grown up dog. These are the requirements for an owner of healthy and a happy beagle.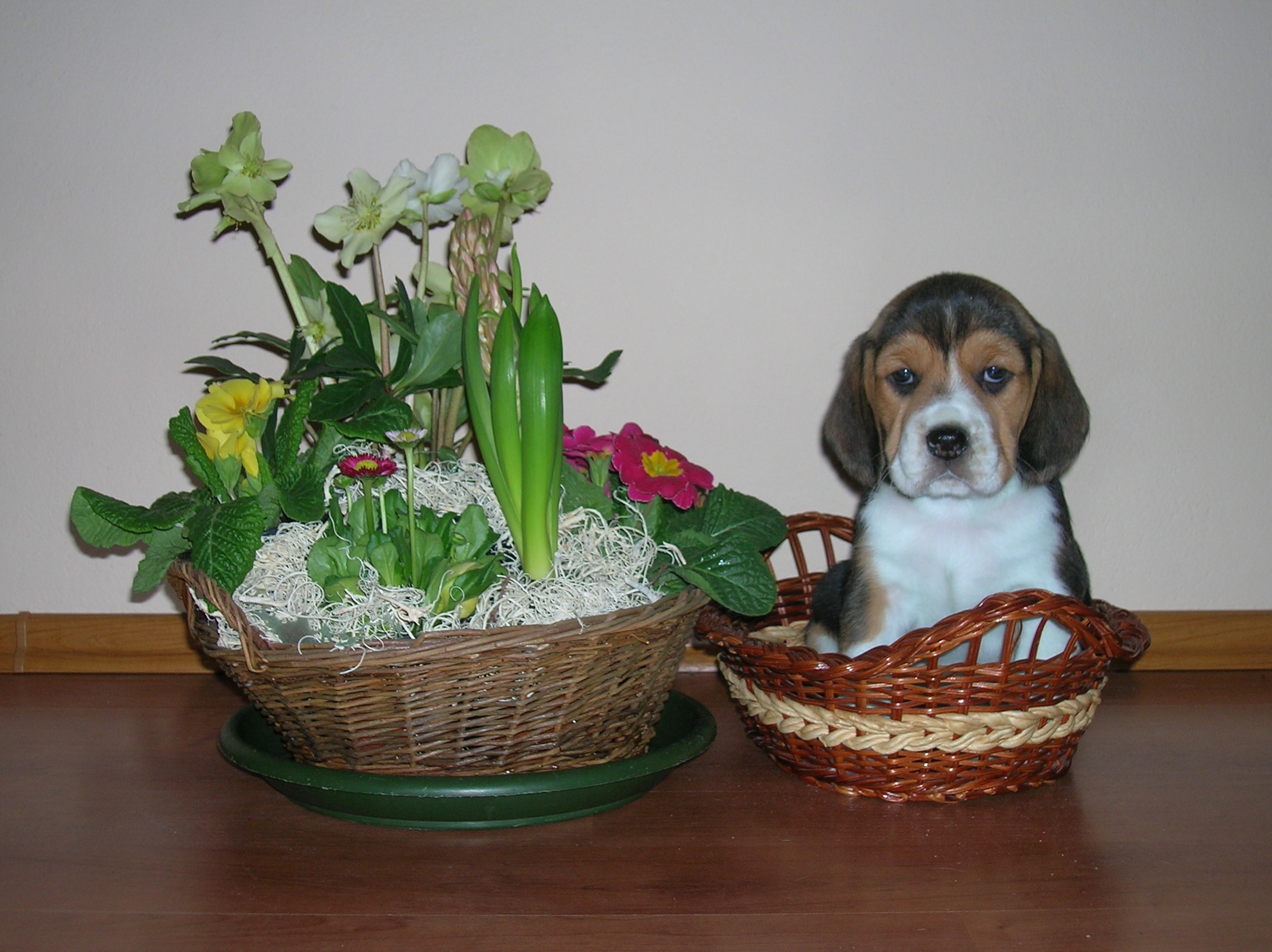 Copyright © beaglepv@volny.cz All rights reserved.